GARMIN EIS TXi Engine Indicating System
(usd) 9,785.10 – (usd) 16,549.00
Dedicated 7″ Portrait EIS Display
Equipment pricing only, must be installed by Saskatoon Avionics.  Contact us today for a customized quote for you aircraft
Description
Real-time Engine Monitoring for TXi Touchscreen Series
Compatible with most normally aspirated or turbocharged Lycoming and Continental 4- to 6-cylinder engines powering GA singles and twins
Engine indications can be viewed as an integrated EIS strip on a 10.6" G500 TXi/G600 TXi display or on a stand-alone 7" display1
Enables aircraft-specific tailoring of instrumentation inputs for engine, fuel, oil, electrical and other vital sensor data
Lean assist mode helps optimize fuel mixture settings for better fuel economy and more efficient engine operation
EIS data is automatically logged and can be wirelessly transmitted to the Garmin Pilot™ app on your mobile device2

Take the guesswork out of fuel and engine management for your aircraft with Engine Information System (EIS) TXi. This engine monitoring solution provides graphical readouts as well as pilot-friendly tools and calculations in a variety of configurations to fit your panel and budget. A single 10.6" TXi display can accommodate PFD information, a multifunction display (MFD) and a vertical EIS strip. And the 7" formats can act as dedicated EIS displays or as split-screen MFD/EIS displays1. Each makes it easy to see and analyze the critical engine, fuel and electrical parameters that can help you maintain the best, most efficient performance from your aircraft.
The Power of Good Information
Our EIS TXi system features bright, sunlight-readable displays and large, prominent engine gauges that provide real-time indications in an easy-to-read format — with color-coded pointers and data bands offering clear visual cues to indicate normal operating ranges, cautions and exceedances. Function gauges and indicators that facilitate power management on the display can include the following: manifold pressure, RPM, fuel flow, oil pressure and fuel quantity-per-tank readouts. You can set caution alerts to advise you if you are near exceedance limits. And in case of an actual exceedance event, each out-of-limit parameter is highlighted with a flashing indication on the screen to compel immediate attention. Engine operation times can be derived from Hobbs meter or tachometer inputs. The system can also be used to monitor the state of your aircraft's electrical system, including display of the main bus voltage, alternator amperage and power load on the battery.
Monitoring Temperatures
In addition to engine oil temperature, EIS TXi displays cylinder head and exhaust gas temperatures (EGT) for each cylinder in your engine. Since the temperature of the exhaust gas varies with the ratio of fuel to air entering the cylinders, EGT can be used as a basis for achieving the optimal fuel/air mixture for combustion. As you lean the mixture, the EGT rises as excess fuel is eliminated until the peak combustion point is achieved. By measuring the EGT of all cylinders in your engine, you can see which cylinder is first to peak and thus avoid overleaning. If you're flying a turbocharged aircraft, turbine inlet temperature (TIT) can also be monitored with the EIS TXi system.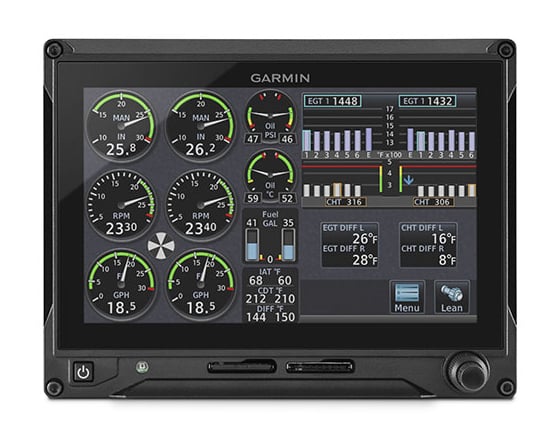 Lean Assist Mode
To make the fuel leaning process simpler and faster, EIS TXi offers an easy-to-use lean assist mode. Once cruise power has been established, simply press the dedicated "Lean" button on the display. Based on your preference, you can set mixture for either rich of peak or lean of peak to achieve the optimum balance of fuel economy and engine performance.
As you begin to lean the mixture — using the bar graph EGT display — the assist function simultaneously checks the EGT of all cylinders to identify either the first or last cylinder to reach peak. The system waits for the temperature indication to peak and then decreases by a minimum of 6 degrees F once the mixture is leaned. While waiting for the last engine cylinder to peak, violet-colored saddles indicate the maximum temperature reached for each of the other peaked cylinders. Once the peak occurs, the corresponding temperature bar on the graph turns white, and a white "saddle" marker indicates the appropriate cylinder. A numeric field also displays the current temperature and difference from peak for that cylinder — with this value changing to reflect all subsequent temperature fluctuations.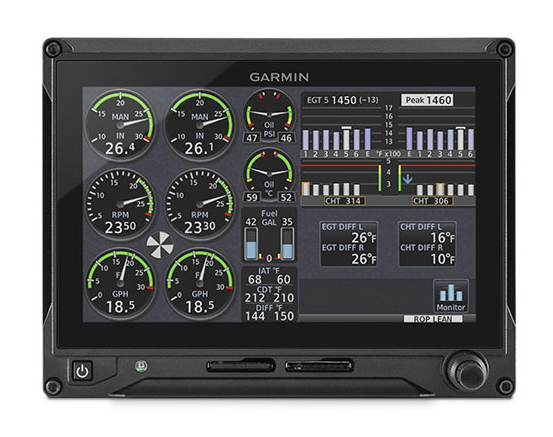 Integrated Fuel Computer
In addition to standard fuel quantity gauges, the EIS TXi system offers you the ability to enter and display fuel management calculations based on the unit's integrated fuel computer. When you stop to refuel the aircraft, just update the entry for the total amount of fuel available in the tanks. You can also use quick-select "full fuel" and "fuel to tabs" buttons to enter those preset amounts. Once airborne, the system monitors your fuel flow and GPS information to estimate how much fuel, range and flight time you have left at the current settings — as well as how much fuel and endurance you'll have left upon reaching your destination.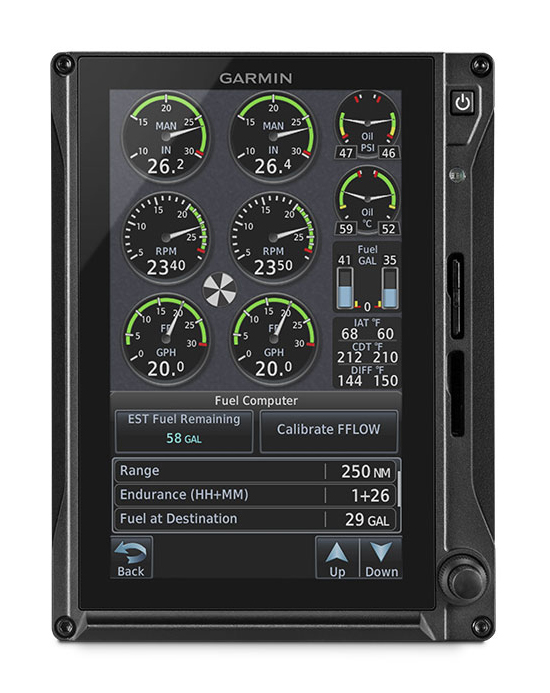 Automatically Monitor and Log Engine Data
To help you maintain control over aircraft maintenance and operating costs, built-in engine data logging capability is included with EIS TXi. Your aircraft's engine performance, trend and exceedance analysis data are automatically monitored and stored on an SD™ card within an EIS display. When the EIS TXi system is paired with a Flight Stream 510 wireless gateway — either through an EIS-capable TXi display or a GTN™ 650 or GTN 750 navigator — the data can be wirelessly transmitted to the Garmin Pilot app running on your compatible tablet or smartphone. Upon landing, the EIS data is then wirelessly uploaded to the flyGarmin® website and is stored securely within the app and on flyGarmin. By either means, this recorded data can be retrieved and used by your aircraft service technicians to identify performance issues or maintenance needs in time to help avert more costly repairs later.
Smart Design, Simplified Installation
To further minimize the cost and complexity of installing your EIS TXi system, each of the engine sensors is connected to an interface adapter that is environmentally ruggedized to allow for mounting in the engine compartment — where shorter wiring runs can be accommodated. As an alternative, where mounting space is limited, the engine interface adapter can also be installed as a consolidated component on the back of the 10.6" G500 TXi and G600 TXi touchscreen displays.
A Clear Path to Higher Efficiency
With its intuitive touchscreen interface and flexible configuration options, EIS TXi offers a comprehensive engine monitoring solution for your aircraft's glass cockpit system upgrade. With installation approval available for hundreds of today's most popular aircraft makes and models, EIS TXi is ready to bring enhanced fuel management, improved engine efficiency, advanced maintenance diagnostics and a host of other safety-enhancing features to your Continental- or Lycoming-powered GA piston aircraft.