CGR-30C Cluster Gauge Replacement
(usd) 2,196.00 – (usd) 2,648.00
The Main Screen displays the Tachometer and Manifold Pressure in large analog arcs at the top of the instrument, providing immediate and quick reference values. The digital display provides accuracy in monitoring engine functions.
$200 Spirit of Oshkosh Mail in Rebate valid from July 1st – August 10th
Description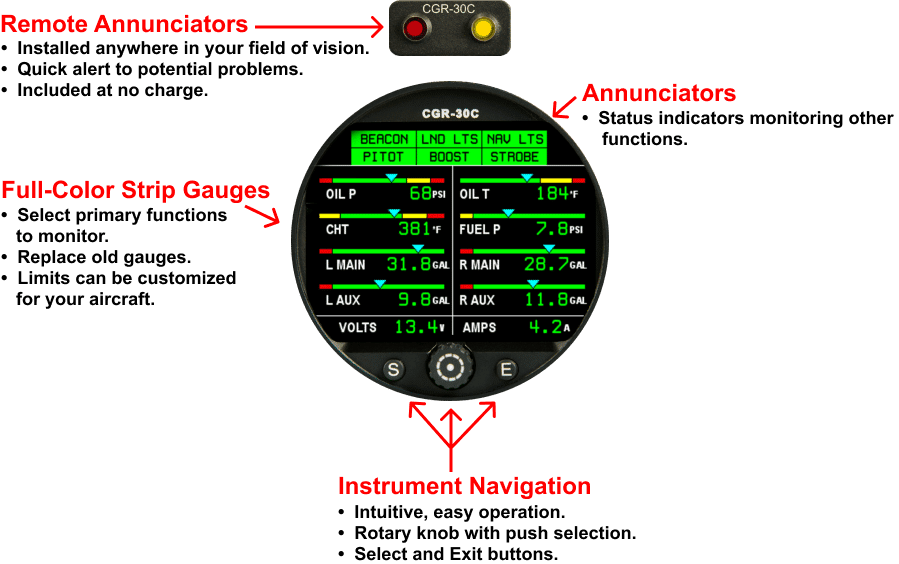 The CGR-30C provides several full-color strip gauges and/or arc gauges (see the alternative configuration below). These give pilots a quick reference view of critical parameters, along with digital readouts for the pinpoint accuracy expected from Electronics International products.
Main Screen Alternative Configuration
The CGR-30C offers an alternative Main Screen configuration with MP and RPM arcs.


The Secondary Screen is intended to display functions which do not need to be displayed continuously. This screen can display up to 6 secondary functions or additional primary functions that will not fit on the Main Screen. These primary functions will all annunciate to whichever screen you're viewing if a limit is violated. The red and/or yellow range annunciators on the Secondary Screen will blink to alert the pilot of any potential problem with a primary function on the Main Screen.
Valuable Tool for Safe Flights
Checklists can help ensure critical steps are followed in any phase of flight.
Store up to 50+ custom checklists.
Checklists can be created in a text editor, then uploaded via USB to the CGR-30C.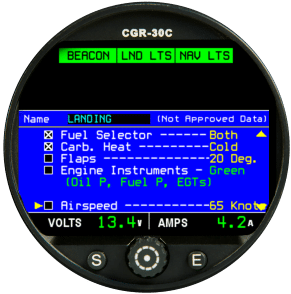 This screen allows you to download Flight Data to a USB flash drive and set the Data Sample Rate. The Data Sample Rate is the time interval between recorded data. The CGR-30C can record up to 1500 flights before it records over the oldest flight first. The USB port may be found mounted in the instrument panel or hanging under it. Flight Data is recorded and downloaded in a comma delimited format. This allows the file to be ported directly into Excel.